Save up to $20.00 off the gate price through FunEx! Tickets start at $89 for children and only $95 for adults vs $123 and $129!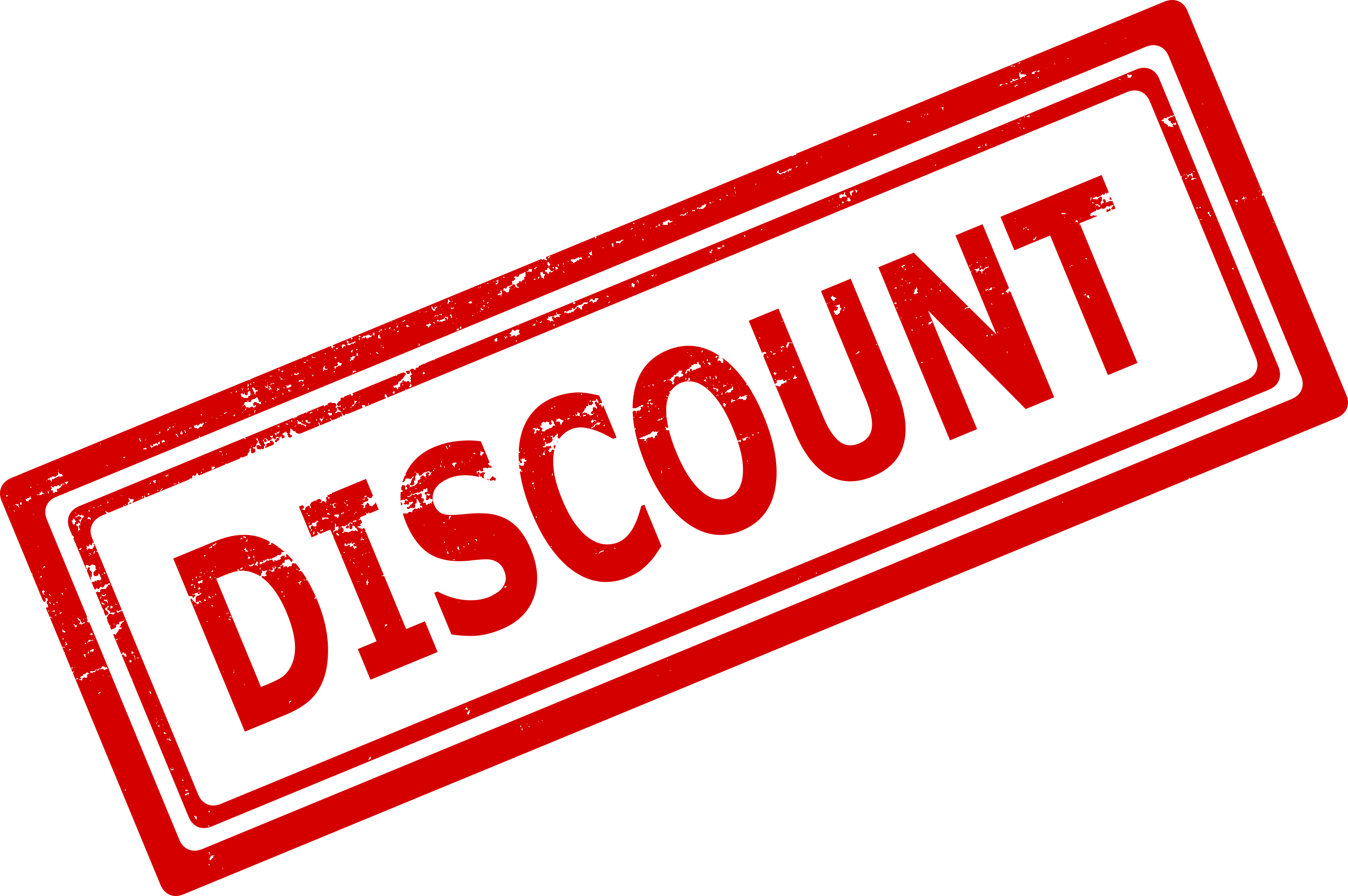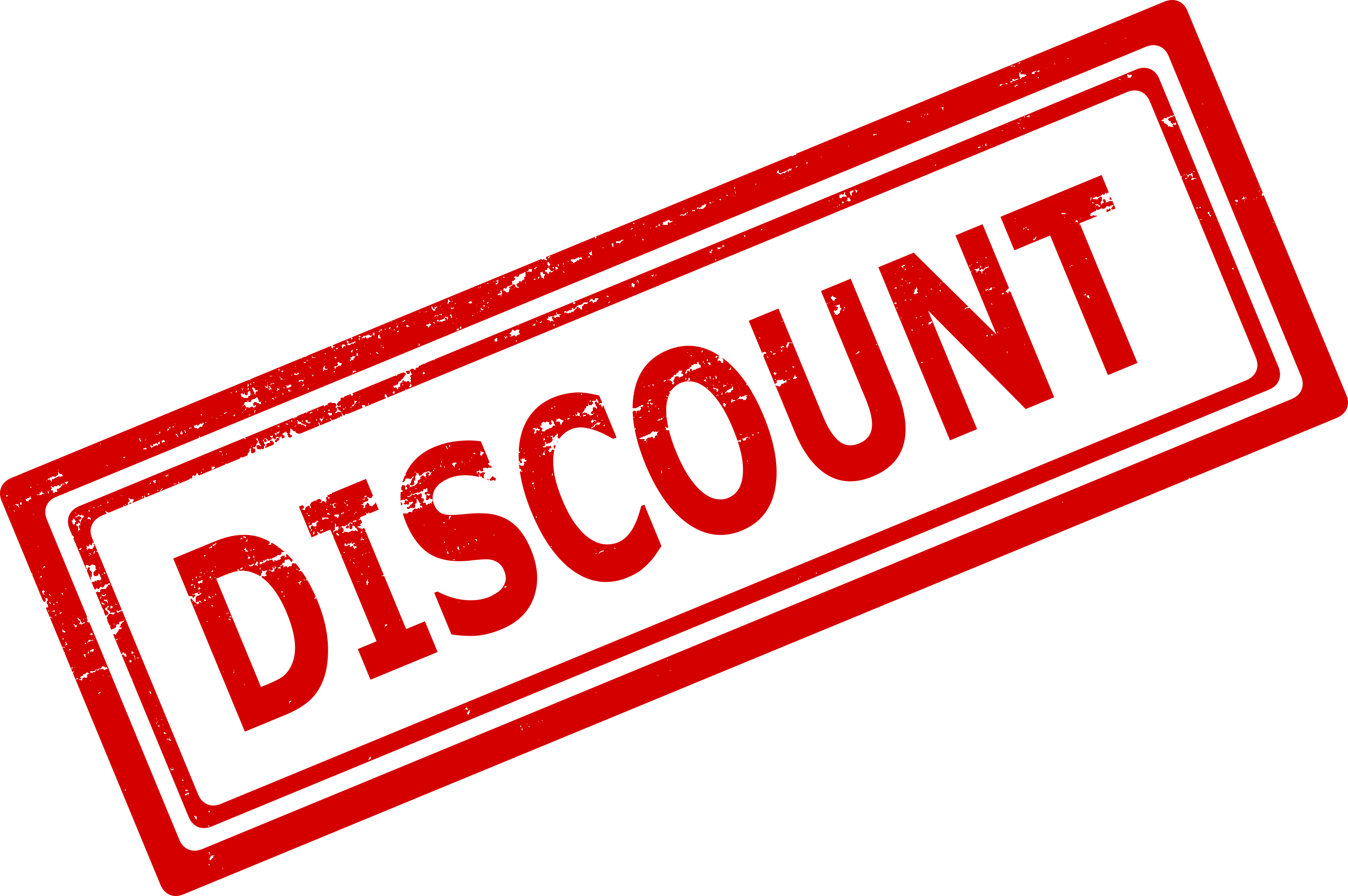 Now Save $20 on the California Neighbor Pass!*
*Valid for online purchases now through April 7, 2022. California Neighbor Pass terms and conditions apply. Blackout dates apply on select passes. Reservations may be required for return visits and additional restrictions may apply.
Public Advisory as of 12/16/21:
Guests ages 5+ must be prepared to show proof of full COVID-19 vaccination (a full 14 days after final dose administered) or a negative test taken within 24 hours (antigen i.e., "rapid" test) or 48 hours (PCR test) of visit, for pre-entry verification when required based on Park attendance. A COVID-19 self-test, sometimes referred to as a "home test", is not acceptable. Guests ages 18+ must also show photo ID. Face coverings are required to be worn at all times in the Park. For important safety information at Universal Studios Hollywood, please visit UniversalStudiosHollywood.com/safetyinfo.

ID and/or biometrics will be required to enter the Park in order to validate Pass Member identification.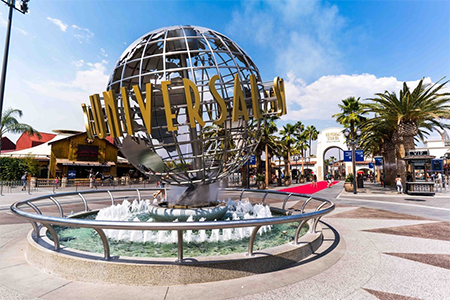 21 rides and attractions, 56 dining options, 16 activities for entertainment, and so much more are waiting for you at Universal Studios Hollywood!
Overview
Get ready to experience the fun with your discount tickets, which not only offer a behind-the-scenes tour of a real working movie studio but also rides and attractions that immerse visitors inside their favorite movies and TV shows.
Ride Flight of the Hippogriff where Hagrid will explain how to safely approach a hippogriff, Jurassic World - The Ride which takes place in the middle of a battle between a T-rex and Indominus rex, and Revenge of the Mummy which goes through Egyptian catacombs. If rollercoasters are not your thing, visit Hogsmeade, encounter a raptor, visit Ollivanders, watch King Kong and a T-Rex fight in 3-D, and so much more at Universal Studios Hollywood!
Why pick FunEx?

Our company guarantees to give you discounted tickets to your favorite attractions at the best price with Universal Studios Hollywood being one of the hundreds of attractions that we offer at a discounted rate. For the past 30 years, we have offered the cheapest discount tickets and discount passes possible and great corporate benefits to thousands of companies. Buy your Universal Studios Hollywood discount tickets now to enjoy the biggest discounts in the industry!
Here's the perfect part: company sign up and individual registration are totally free. Yes, reading that again will not change the words. They are free! After registration, you can enjoy huge discounts on theme parks, water parks, museums, zoos, aquariums, and outdoor and indoor adventures all over the United States!
Need some clarification? Find the answers to your questions below or reach out to us through text/call at 949-367-1900 or help@funex.com
Another benefit of purchasing with FunEx is that you do not need to print your discount tickets. Consider your phone your new best friend because all you need to do is present your discounted e-tickets at the gates and, viola, in you go!
Rides & Attractions
Get the best out of your visit (and your discount tickets) by exploring the park's 21 rides and attractions, 56 dining options, 16 activities for entertainment, and so much more!
Be sure not to miss the highlights of Universal Studios Hollywood such as character sightings, Flight of the Hippogriff, Jurassic World – The Ride, and Harry Potter and The Forbidden Journey!
To see a complete list of all the fun things to do at the park, please click HERE.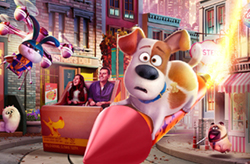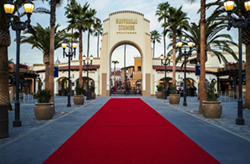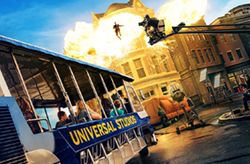 Dining Options at Universal CityWalk
Do not let yourself walk around on an empty stomach! Universal Studios Hollywood has lots of options to choose from! Despicable Me-themed food? Check! Sandwiches? Check! Harry Potter Butterbeer? Check! Tasty pastries? Check! Grab some of this delicious food and snacks at the park!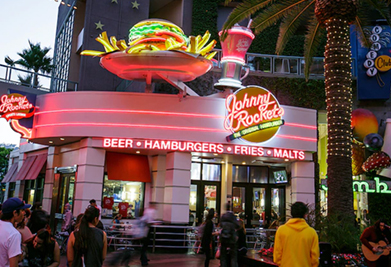 Try
Johnny Rockets
at Universal CityWalk for fresh beef cooked-to-order hamburgers, crispy fries, hand-spun malts and shakes, and more! Yum!
Visit
Pink's Famous Hot Dogs
for the best juicy hot dogs in Universal CityWalk. Founded in 1939, Pink's is great for a quick bite or late dinner!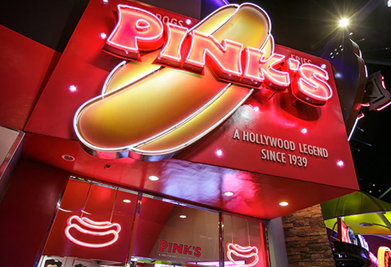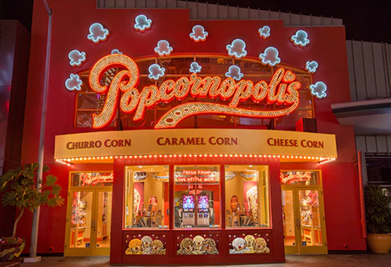 Popcornopolis
is just what it sounds like! They sell all things popcorn! You can get classic flavors like caramel or cheddar cheese or more unique flavors like strawberries & cream or Rocky Road! They also sell chocolate dipped treats and caramel apples, and samples are FREE! You can find Popcornopolis at Universal CityWalk.
Blaze Pizza
at Universal CityWalk offers pizza with fresh dough that is made from scratch and healthy ingredients. It only takes 180 seconds in the oven to be cooked into crispy perfection.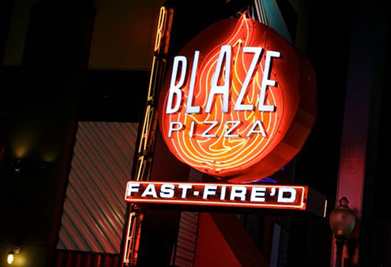 To see a complete list of places to eat at Universal Studios Hollywood, click HERE.
Frequently Asked Questions:
Are reservations required?

Yes. Your date-specific Universal Studios Hollywood discount tickets serve as your reservations.

Where is Universal Studios Hollywood located?

The park is located in Los Angeles, California. Their complete address is: 100 Universal City Plaza, Universal City, CA 91608. Grab your discount tickets now and drop by!

What rides, attractions, and shows are currently open at Universal Studios Hollywood?

Click

here

to see what is currently open as they are subject to change.

What are park's hours of operation?

Universal Studios Hollywood is open from 9:00 a.m. or 10:00 a.m. to 5:00 p.m. or 6:00 p.m. depending on the day and time of year. Please check their

calendar and hours

for updated information.

What are the height requirements for the rides?

The park has a lot of fun rides to try out! To see the complete guidelines and height requirements per ride, please click

here

. They are all accessible to you through your discount tickets.

Is there free parking?

None. To see the complete parking rates for each type of vehicle, please click

HERE

. Your discount tickets from FunEx do not include parking.

Do children get free admission to Universal Studios Hollywood?

Children who are two years old or younger get in free.

Do I have to print out my Universal Studios Hollywood discount tickets?

No, through FunEx, you can just show your discount tickets on your phone at the gates for easy entry.

How soon do I receive my discount tickets from FunEx?

Your discount tickets will be coming directly from Universal Studios Hollywood. If you have not received them instantly after your purchase, please allow an hour to 24 hours for the tickets to arrive to your email.

Are there ATMs in the park?

Yes, they are located at the front gate, in CityWalk, near Jurassic Café on the Lower Lot, and next to Kwik-E-Mart by the Simpsons Ride.

Are there lockers at the park?

Yes, lockers are subject to availability and are one price for the day, and you can pay with either cash or credit cards.

Are there items that are not allowed into Universal Studios Hollywood?

Weapons, explosives, drugs including marijuana, alcohol, clothing likely to create a danger or disturbance, clothing that may create a false impression of employment by Universal or as emergency personnel, segways (unless utilized as an ADA mobility device), hoverboards, and drones are not allowed into the park. Note: all purses and backpacks will be inspected or x-rayed before guests enter the park.

Can I bring outside food and drinks?

To see a complete list of the food and drinks allowed inside Universal Studios Hollywood, please click

HERE

.

Can I bring my pet?

Only registered service animals are allowed at the park. Be sure to go to Guest Relations to register your service animal and pick up a Riders Guide.

Are strollers and/or wheelchairs available for rent?

Yes, strollers and wheelchairs can be rented across from the Universal Studios Store.

Is smoking allowed inside?

Smoking, including tobacco, marijuana, e-cigarettes, and vaporizers, is not allowed inside Universal Studios Hollywood.

Does the park have Wi-Fi?

Yes, you select XFINITY WiFi (network name: Universal) and sign in as a guest.

Are face coverings required?

All guests who are two years old or older are required to wear a mask indoors and outdoors except while eating or drinking at Universal Studios Hollywood.

For more Universal Studios Hollywood FAQ's, click

here

.
Health & Safety Measures
Due to COVID-19, Universal Studios Hollywood has implemented new safety guidelines like social distancing, screenings, and sanitizing. For important safety information at Universal Studios Hollywood, please visit www.universalstudioshollywood.com/safetyinfo
The State of California strongly recommends that when you visit Universal Studios Hollywood you be fully vaccinated for COVID-19, obtain a negative COVID-19 test result prior to visiting, or wear a face covering.* Guests who are not fully vaccinated should wear a face covering during their visit. All guests, regardless of vaccination status, are required to wear face coverings indoors.
We encourage all guests to keep a safe distance between travel parties, and we remain focused on maintaining the highest cleanliness and sanitization standards. For additional info, visit the Safety Guidelines section of our website: www.universalstudioshollywood.com/web/en/us/plan-your-visit/operations-safety-updates
Assumption of Risk
In connection with your purchase of Universal Hollywood products and your visit to Universal Hollywood including Universal Studios Hollywood and Universal CityWalk Hollywood, please be advised that you must follow Universal Hollywood's policies, CDC guidelines and the recommendations of health officials. Please note that any public location where people are present provides an inherent risk of exposure to COVID-19 and Universal Hollywood cannot guarantee that you will not be exposed during your visit. By visiting Universal Hollywood, you acknowledge and agree that you assume these inherent risks associated with attendance. When you enter Universal Hollywood, you understand that you are subject to the Universal Hollywood terms of service (including arbitration, class action waiver, assumption of risk, and infectious disease release of liability) located at www.universalstudioshollywood.com/web/en/us/terms-of-service
100 Universal City Plaza, Universal City, CA, 91608. Phone: (800) 864-8377
Universal Studios Hollywood Discount Tickets Prices
Universal Studios Hollywood California Neighbor Pass Tickets

These discount tickets vary by day and are subject to change without notice. Valid on selected date only.

(All Ages)

Discounted Price $139.00

Regular price $159.00

1-Day General Admission Tickets

These discount tickets vary by day and are subject to change without notice. Valid on selected date only.

Adult (age: 10+)

Discounted Price $95.00

Regular price $114.00

1-Day General Admission Tickets

These discount tickets vary by day and are subject to change without notice. Valid on selected date only.

Child (age: 3-9)

Discounted Price $89.00

Regular price $108.00

Express Universal Studios Hollywood Tickets

These discount tickets vary by day and are subject to change without notice. Valid on selected date only.

Child (age: 3-9)

Discounted Price $159.00

Regular price $179.00

Universal Studios Hollywood VIP Experience Tickets

These discount tickets vary by day and are subject to change without notice. Valid on selected date only.

Discounted Price $349.00