Buy your discount whale-watching tickets from FunEx and save up to 55% off vs gate price! Lowest prices are guaranteed only on FunEx.

Dana Wharf Sportfishing and Whale Watching is OPEN! Reservations required.
Call (949) 496-5794.
Whale & Dolphin Watching
Delight in the exciting sights and sounds of the many types of magnificent ocean creatures that live off the coast of Dana Point - a known landmark for whale sightings. Dana Wharf's tours offer rare glimpses into a huge variety of underwater wildlife that you wil never forget. November through April is Grey Whale season. Come witness for yourself the rare sight of this majestic, endangered creature. Watch them as they migrate south and travel really close to shore! Found only in the Pacific Ocean, this magnificent marine mammal is a sight you'll never forget.
You'll also see Dolphins galore. You will be able to see many types of dolphins such as Risso's and bottle-nosed dolphins - all year long! Don't forget your camera, as schools of playful dolphins often play around the boat! All cruises are narrated by the captains who will educate you on the abundant ocean life on our coast.
Sport Fishing
Our landing caters to the amateur as well as seasoned fishermen. Our knowledgeable crew and expert skippers are always eager to help educate and instruct, if needed. The types of fish available to catch vary depending on the season and water temperature. Some of them are Halibut, Barracuda, Yellowtail, White Sea Bass, Sand Bass, Calico Bass, Bonito, and even Tuna. You never know what you might reel in, and that is part of the magic of fishing.
Our vessels are clean, and they offer many options of hot and cold food. Beer, soda, chips and candy are available for purchase (sorry, no coolers can be brought aboard the boat). If you do not have fishing gear, rods and reels are available to rent. A day license for anyone over 16 years of age is required. Come join us for an adventure you will never forget. You just might get hooked on fishing!
Dana Wharf OC Wine Cruise
Includes a 90-minute wine and appetizer evening cruise aboard a luxury catamaran in the beautiful Dana Point Harbor. The 63 ft ocean adventure is an eco-friendly, state-of-the-art catamaran and is fully equipped with easy-access to the large platform viewing deck. Sit back, relax and enjoy the sights of beautiful and charming Dana Point Harbor. This cruise features a sampling of two red wines and 2 white wines from The Organic Cellar which promotes organically grown and pesticide-free wines. Also includes a wine host, cheese, crackers, fruits and nuts to complement the wines. For more information, visit www.ocwinecruise.com
What's New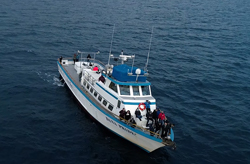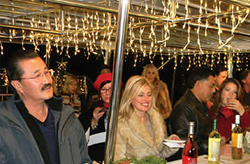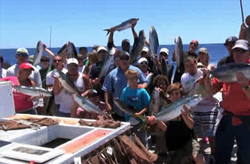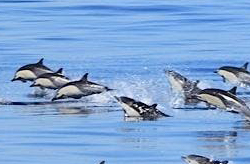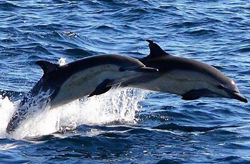 Location: 34675 Golden Lantern, Dana Point, CA, 92629
Last updated May 27, 2022
Dana Wharf Sportfishing, Whale Watching & Wine Cruises Tickets